Flat White 120ml Coffee E-liquid
Flat White Brewed vape juice by Moreish Puff is an exquisite coffee vape. Freshly grounded coffee beans with added rich cream, which brings this coffee vaping experience to another level. As a result, you can enjoy intense fresh coffee with a creamy finish. Moreish Puff Brewed comes in 70VG/30PG mix, making it an excellent choice for cloud chasers and sub-ohm vaping. Big 120ml vape juice bottle has 3mg,6mg nicotine. If you need to add some nicotine shots, we included two nic shots for you too. Just add nic, shake it, and you have 120ml of delicious 3mg nicotine strength e juice, ready to vape.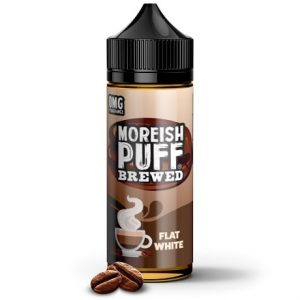 Flat White 100ml Freebase by Moreish Puff E-Liquids. The classic cuppa in an e-liquid! Made with rich coffee and a dash of milk, this flat white has all the makings of your favorite classic coffee.
Moreish Puff is gaining popularity in the international market with its high-quality product lines and focus on the best experiences for vapers.
Flat White 120ml Freebase by Moreish Puff E-Liquids Features:

120ml
Nicotine Strength of 3mg,6mg
Designed For Sub Ohm Vaping
Childproof Cap
Tamper Evident
VG/PG Ratio: 70/30
Mr.Vapora Pakistan – Premium E-Juices, Electronic Cigarettes and Supplies
Mr.Vapora.pk is Pakistan's #1 source for premium vape related products that you can buy online. We know that quality is the most important factor when it comes to vaping. We carry more than 150 Flavors. Guaranteed to meet every style of vape user and their preference in flavor.
When ever you put in your body anything you should always be 100% sure you are getting something that is safe and made using premium ingredients. All e-liquids we carry made under ECTA http://ectaofcanada.com/testing/ No wonder PremiumLabs is now one of the most popular brand in USA/CA and now in Pakistan we bring you the complete lines of their products.
Feel free to reach out to us for any questions you have.
Mr.Vapora the Best Vape Store In Pakistan. Our outlets in I-8 Markaz , F-6 Markaz, Chaklala Scheme III Islamabad, Saddar Gpo Rawalpindi, Peshawar. We Deliver Our Products through Courier all across the Pakistan.